AIDA Is Your Dashboard Back Seat Driving Robot
by Martin Zimmerman | Submitted Friday Oct 30, 2009 [12:41 PM]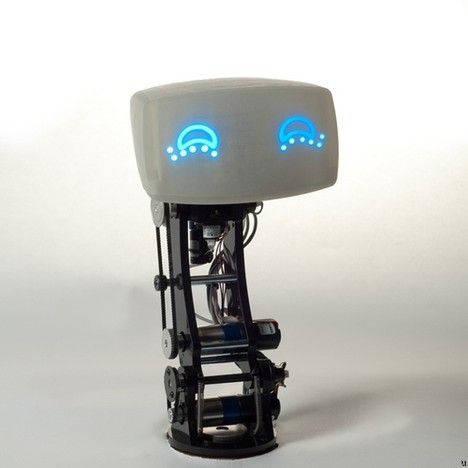 Between GPS, cruise control, voice-activated communication and entertainment systems and automated parking assist, we're getting pretty accustomed to having our cars tell us what to do.
Volkswagen and the Massachusetts Institute of Technology want to take that concept a few steps further with AIDA, a dashboard-mounted robotic device that uses myriad sources of information to help you plan travel routes, dodge traffic jams, find heretofore unrealized entertainment opportunities and avoid running out of gas.
AIDA (which stands for Affective Intelligent Driving Agent) doesn't actually control your car. Rather it monitors features and systems such as the gas and brake pedals, windshield wipers, seat position and fuel gauge and tire pressure to "learn" how you drive.
"When it merges knowledge about the city with an understanding of the driver's priorities and needs, AIDA can make important inferences," explains Assaf Biderman, associate director of MIT's SENSEable City Lab. "Within a week AIDA will have figured out your home and work location.
"Soon afterward, the system will be able to direct you to your preferred grocery store, suggesting a route that avoids a street fair-induced traffic jam. On the way AIDA might recommend a stop to fill up your tank, upon noticing that you are getting low on gas. AIDA can also give you feedback on your driving, helping you achieve more energy efficiency and safer behavior."
According to the MIT press release, "the project envisions that a kind of symbiotic relationship develops between the driver and AIDA, whereby both parties learn from each other and establish an affective bond.
"To identify the set of goals the driver would like to achieve, AIDA analyzes the driver's mobility patterns, keeping track of common routes and destinations. AIDA draws on an understanding of the city beyond what can be seen through the windshield, incorporating real-time event information and knowledge of environmental conditions, as well as commercial activity, tourist attractions, and residential areas."
Sounds a bit scary, but watching the video of how the system would conceivably work it seems pretty cool.
AIDA is reminiscent of the dash-mounted "robotic agent" that Nissan displayed in its PIVO2 concept car at the Tokyo Motor Show in 2007. According to Nissan's promotional brochure, the device "infers the driver's condition. It not only gives necessary information for the operation, but also speaks to you to cheer you up or to soothe you accordingly."
The MIT project is a collaboration between the Personal Robots Group at the MIT Media Lab, the SENSEable City Lab and the Volkswagen Group of America's Electronics Research Lab.
No word on when it might actually reach the production stage or what it will cost when (or if) it does.
People who read this, also read...
---
---
Tags:
driving
artificial+intelligence
companion
navigator
MIT
(http://latimesblogs.latimes.com/uptospeed/2009/10/between-gps-cruise-control-voice-activated-communication-and-entertainment-systems-and-automated-parking-assist-were-ge.html)
---
back to top