NOELLE: The Pregnant Robot
by MedGadget | Submitted Monday Nov 30, 2009 [04:09 PM]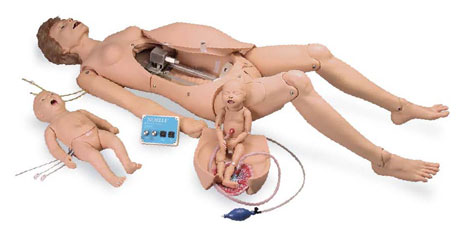 NOELLE™ and her birthing accessories.
Take a deep breath. I'm pleased to announce the arrival of NOELLE™, a birthing simulator conceived by Florida-based Gaumard Scientific Company. This medical simulator system, the product of long and difficult labor, is a "pregnant robot used in increasing numbers of medical schools and hospital maternity wards." Supplied with four umbilical cords, four dilating cervices, two umbilical clamps and three vulva for postpartum suturing, the device's S560 model really delivers.
I had the opportunity to witness a "live" birth by NOELLE™ at the
West Penn Allegheny STAR training center
. NOELLE can simulate normal and abnormal birthing procedures, and vary the length of delivery. Fortunately, today's birth was under two minutes, and normal. It was a bit odd to see a linear actuator and other motors inside a detailed mannequin, but the weirdest moment arrived during the delivery procedure.
As NOELLE's chest rose and fell with labored breathing, the humming of her compressor in the background, she began to speak. "The baby is coming!" she exclaimed as the motor started pushing the doll baby out into waiting hands. One last scream and whir and the baby was delivered. While a realistic simulation, let's just say some body parts are better left to the real thing. There were a few...interesting developments during the delivery. I'll leave it to you to figure out. The training staff swears by her, though, and she makes a nice complement to the (robotic) neo-natal care unit.
For more information, visit the
Gaumard Scientific
website, where you can see other training dolls and curriculum.
People who read this, also read...
---
---
Tags:
birth
simulator
training
medical+doll
virtual+training
(http://www.gaumard.com/)
---
back to top