CMU Unified Snake Robot
by Evan Ackerman | Submitted Wednesday Apr 21, 2010 [03:03 AM]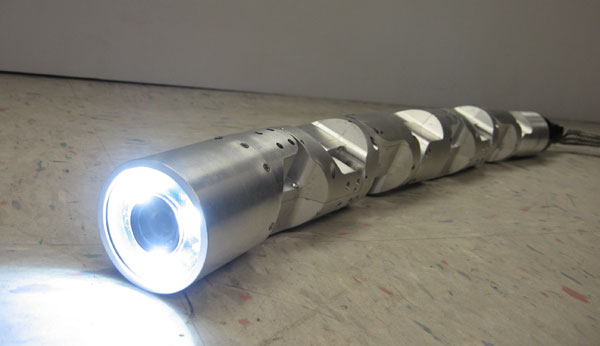 Snake robots can use their many internal degrees of freedom to thread through tightly packed volumes accessing locations that people and machinery otherwise cannot use. Moreover, these highly articulated devices can coordinate their internal degrees of freedom to perform a variety of locomotion capabilities that go beyond the capabilities of conventional wheeled and the recently developed legged robots. The true power of these devices is that they are versatile, achieving behaviors not limited to crawling, climbing, and swimming.
One of the coolest things about snake inspired robots is how they're in the process of transcending their biological models, as these videos from CMU's biorobotics lab shows. I'm fairly certain that nowhere in nature do snakes leverage their design to, for example, climb up vertical poles with a twisting motion. This may be because real snakes are able to execute a much finer degree of control over their muscles so as to render such a motion unnecessary, but on the other hand, perhaps twisting is actually a primitive emulation of a sidewinder motion. Either way, it's good to see some wholesome research snakebots again, after the last ones we wrote about, which were decidedly more violent.
For more information, see
CMU BioRobotics Lab
People who read this, also read...
---
---
Tags:
snake+robot
biomimicry
exploration
usar
(http://www.botjunkie.com/2010/03/19/cmu-unified-snake-robot/)
---
back to top