Colony Scout: Affordable robots for collaborative systems research
by Rossum (RobotZeitgeist.com) | Submitted Sunday Sep 12, 2010 [11:51 AM]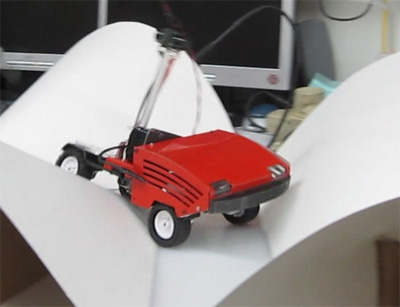 The Scout chassis was designed from the ground up to be robust and versatile. Fast 200rpm metal gearmotors propel the Scout at a brisk 90cm/s (~2mph). A rocker suspension allows the front and rear half of the robot to rotate independently, conforming to terrain and increasing the maximum payload.
Many robots come with specific functions that generally can not be altered too much, but then that makes their functionality rather limited. These new Colony Scout swarm robots, however, are highly adaptable, as they can be given different jobs and be equipped with different tools. More importantly, these are very affordable robots specifically designed for research in collaborative robotics.
As an example of the platformís versatility, some robots can be given a shovel and bucket for digging, while others can act as a forklift lifting up heavy objects. As one can probably figure out, the robots are intended to be used by the numbers, and can succeed at jobs that a single bigger robot can not do on its own.
Each bot measures 4.75 X 6 inches in height, and carries IR distance sensors that allow it to make out its surroundings and not bump into things. They also have automatic recharging batteries, which is very useful when dealing with a large number of robots that you canít take care of one by one. The Colony Scouts also come with 4 wheels for agile driving through bumpy or otherwise challenging terrain. The sensors also help when mapping out which areas might be too dangerous to try to drive through. Their rotating joints add some extra agility too.
The Colony Scouts are specifically designed to work together in a coordinated and intelligent manner, or in other words as a team. As far as affordability goes, each robot costs only $400 which is definitely within reach of research labs and amateur roboticists alike.
The short video below shows one of the bots steadily bumping its way through a highly uneven test service, and managing to do it at different speeds.
People who read this, also read...
---
---
Tags:
swarm+robotics
carnegie+mellon
autonomous+vehicle
cooperation
colony+scout
CMU
daniel+shope
(http://robotzeitgeist.com/2010/09/colony-scout-affordable-collaborative-robotics.html)
---
back to top