RAPUDA robot arm for wheelchairs
by RobotZeitgeist.com | Submitted Sunday Sep 12, 2010 [12:01 PM]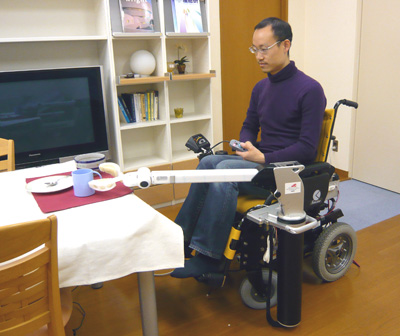 The goal of the RAPUDA team is to develop a level of pricing that can be industrialized, constructed from inexpensive parts, aimed at integrating existing technology systems development.
Engineers must always consider the best approach when it comes to designing robots Ė do you experiment with the latest technology and try to make things as new and as daring as possible, or do you go for something simple but convenient that wonít scare most people? Certainly both sides have their advantages and equally well disadvantages, but some feel that when it comes to dealing with medical patients, easy and convenient is the way to go.
Thatís why Japanís National Institute of Advances Industrial Science and Technology came up with RAPUDA, a wheelchair-arm robot that goes back to the basics of joystick-controlled assistance. As the title suggests, itís rather straightforward Ė a robotic arm that can extend out from a wheelchair and reach or grab different objects. It is specifically designed for people with upper-limb disabilities, so one at least has to be able to move a regular wheelchair joystick to operate the arm. The arm moves by a telescoping method, where small interlocked segments are reeled-in to achieve motion.
The video shows RAPUDA accomplishing some everyday tasks, such as reaching for a glass of water from a table and bringing it to the userís mouth. The arm can also reach down, pick up things and put them back in their right place. Opening doors, carrying clothes and other tasks can also be made possible again for disabled patients. Itís true that the arm operates at a very slow pace, but in return it looks very stable and secure. All this allows patients to live much more independent lives, which, as documented, helps them on psychological levels as well. Letís hope that the affordability of RAPUDA will be just as ďsimpleĒ as well.
People who read this, also read...
---
---
Tags:
arm
wheelchair
assistive+living
assistive+robot
RAPUDA
(http://robotzeitgeist.com/2010/09/rapuda-robot-arm-for-wheelchairs.html)
---
back to top