I'm Back!
So, I sort of went on hiatus for a while over winter break. Now the new semester has started and I'm back with high-high-high speed internet versus that painful dialup connection at home.
I vow to start posting some new stuff again! My big focus for the past few weeks has been the robotics playground -- there are two sample projects to check out right now in the robotics section. I'm pretty happy with the layout so far and the design is fundamentally about information delivery.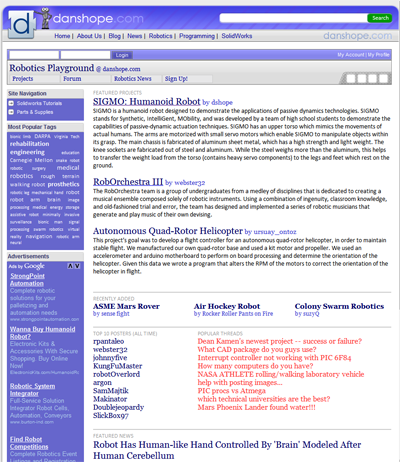 That means form follows functionality, which for most website content, is a must. If you have any feedback on the design, let me know and I'll see what I can do! The robotics playground can't get off the ground without user feedback, so I'm all for lists of pros & cons!
d out.
Labels: refresh, returning, starting anew
blog comments powered by

Disqus