Tuesday, November 24, 2009
As a man on the move who needs access to my data from many different machines, I had struggled to find a good solution to access my SolidWorks files.
Should be free or low cost (hopefully not subscription based)

Should synchronize files with minimal user input

Just works, never needs me to doctor it
I've worked with the professional solutions like Activault, but didn't need quite that level of functionality for my personal use. A subversion utility was intriguing, but generally required too much interaction (commits, updates, etc) for my general workflow.
After manually copying files onto thumb drives, remote desktop-ping, and trying to get a network drive up and running I decided enough was enough. So began a journey through several sync solutions.

Dropbox was my first solution, and worked nearly flawlessly. Updates were transparent, and I could share with other users as well as keep certain folders private. The versioning system was pretty nice and saved me some hassles a few times. I finally ran up against a few limits with the Dropbox service: storage capacity and directory limitations.
You only get 2GB free, which is pretty sweet, but not really enough. My only other option was to purchase a subscription plan, which starts at a hefty $10 per month for 50GB. That's the same as my web hosting, which gets me unlimited storage!!
One of Dropbox's most annoying limitations is the use of a single catchall folder. I wanted to retain my file structure which is a complex of files spread across multiple partitions. The more I relied on the service, the more this limitation made the service unusable. It just interrupted my workflow.

This service didn't quite get the full treatment as I was already a little jaded from my Dropbox experience. Overall it was a major step forward - I could impose my own file structure, syncing was seamless, and there were the nice versioning and web-interface features.
Syncplicity is a fantastic service, and probably cuts it for most people. It's gotten rave reviews, it just wasn't the right product for me. If you want access to more than 2 computers, you have to upgrade, again with a monthly subscription fee. It is also Windows only (for the moment)...
Which brings us to the winner,
Not quite fully cross-platform, this service allows syncing between PCs and Macs. Much like Syncplicity, you have full control over directory structure and updates occur immediately when machines are connected to the 'net.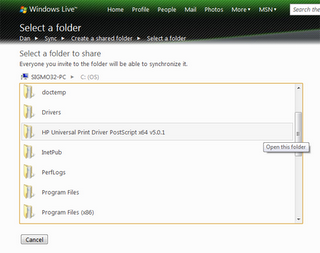 The web interface needs a little work, but for the most part was snappy enough to keep me happy. The syncing occurs fast enough that I get versions of the little temp files (~XXX.sldprt) that SolidWorks creates while you're working. If you've just synced a large number of files and they aren't yet downloaded, double-clicking on the placeholder file will bump it up in the queue. Nicely it also alerts you when the file gets downloaded to your machine.
I found that full versioning control wasn't really necessary for my daily use. A nice trick occurs when you delete a file (this can be done from any synced machine, not just the creator). A deleted file will get moved to the recycle bin on any synced machines. This is generally enough of a safeguard to recover accidently deleted files.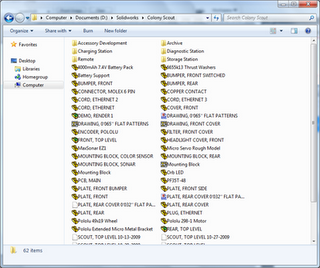 End Result? Happily synced files! I've been using this for the past few days, and it's been quite amazing. I have to remind myself that I can access my files from anywhere. Best of all? It's all free!
Labels: dropbox, file syncing, free, online backup, software review, SolidWorks, synchronization, syncplicity
---