Putting the Colony Scout robot through its paces
The new Colony Scout platform was up and running for a few hours today as I continued testing the AWD system. Scout is a prototype platform for swarm robotics at the Carnegie Mellon Robotics Club.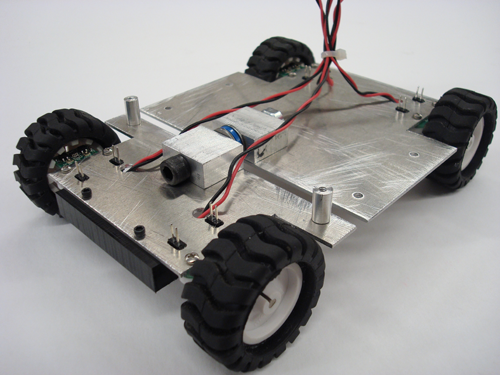 We remade the baseplate out of 6061 aluminum on the CNC mill as the previous handcut plate was too soft and imprecise. I wanted the alignment of all the motors/wheels to be as consistent as possible for straight tracking with minimal correction from software.
The headers you see sticking up beside each wheel are for quadrature encoders - the encoders give the robot about 3mm linear resolution, which is decent for a vehicle of this size.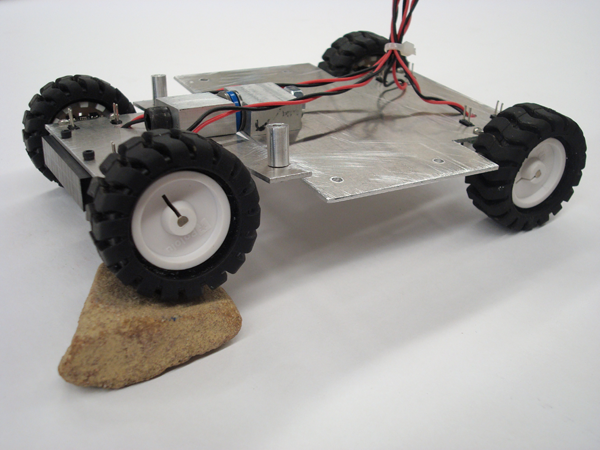 Another exciting component added today was the rocker, which allows the front and rear axles to swivel (vertically). This allows all four wheels to contact the ground during most terrain crossing, improving traction. The updated platform outperforms the Scout of two days ago, which featured a rigid baseplate.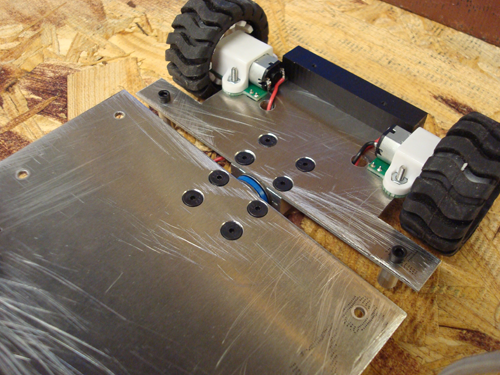 The new components have a high degree of polish accomplished by good design and machining practices. Our club machine shop allows us to turn out quality parts and have a fast turn around time from concept to prototype.
Keep tuned for more updates this week!
Labels: carnegie mellon, cmu robotics club, colony, colony scout, news, robot, robot platform, swarm robotics, testing, updates
blog comments powered by

Disqus