Inside the $400 Colony Scout: Robot on a Budget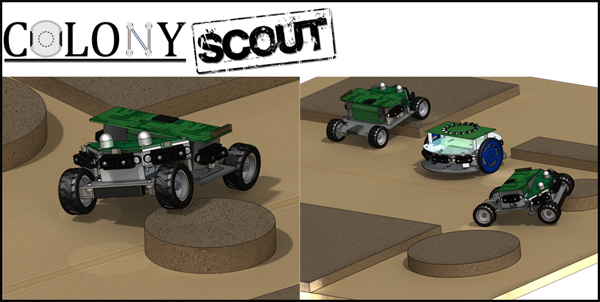 Now that I posted some videos of the Colony Scout in action, I'll discuss the platform in a little more detail.
The basics: It's a compact (4.75"x6"), four wheel-drive robot equipped with an array of IR distance sensors, automatic recharging capability, and other features yet to come. The current talk is to use an ARM7 based board running at 40MHz, paired with an unspecified ATMega for additional I/O.
Some background: The goal of the Colony project at the CMU Robotics Club is to develop a low cost swarm robotics platform capable of structured coordination to carry out tasks too difficult for a single machine.
Colony has been around for several years and has made great strides with a few robot upgrades along the way. The team is prepping the Scout as a potential replacement for the current ATMega 128L based robots.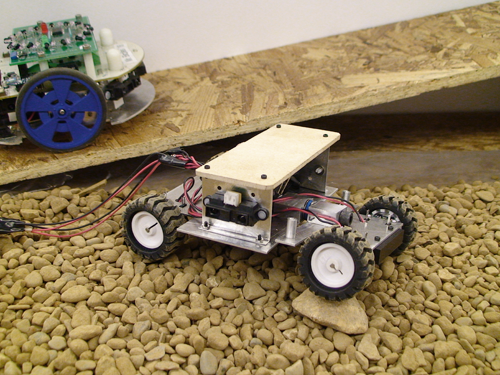 The goal: The Scout is a deviation from the 2-wheel differential drive robots used in the past. While a common and versatile form factor, the two wheeled platform balked at any non-level terrain. Even driving up ramps or over wires can become an issue. Scout is designed to expand the exploration options beyond level and rectangular environments.
What's new? Faster processors and an efficient code base will permit the Scout to actively respond to a complex environment. The new sensor array extends the current 5 IR sensors to 7 for additional range and cliff detection. A bump switch returns for the front bumper to detect obstacle collision (useful when purposely pushing objects).
Each of the Pololu wheels comes equipped with a quadrature encoder that gives ~3mm linear accuracy. The 10x12mm micro metal gearmotors are lighter, faster, and stronger than the Solarbotics GM8s on the current robots. Using four motors does draw more current, so the battery is upped from a 6V 2200mAh NiMH pack to a beefy 7.2V 4000mAh Li-Ion pack.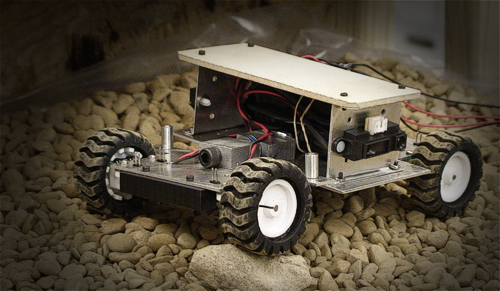 Conclusion: The Colony Scout is a tough little machine that can cross rough terrain while employing a multitude of sensors, all for a sub-$400 cost per robot. Plans are in place to make the robots "smarter" than ever before, and able to respond to the environment faster and in a more coordinated manner.
Summer 2009 is all about prototype testing – learning about the platform and its capabilities and limitations, so stay tuned – More videos and posts will be coming your way!
What do you think? What types of functionality, from line sensing to 3D mapping, do you think a cheap robot should have?
See http://www.danshope.com/blog/2009/05/putting-colony-scout-robot-through-its.html for more pics and vids on the Colony Scout.
Labels: carnegie mellon, cmu robotics club, colony, colony scout, details, news, robot, robot platform
blog comments powered by

Disqus